Modern Dental Implant Solutions In Honolulu, Hawaii
Improve Your Quality Of Life With Dental Implants
Office Hours
Mon-Thurs: 7:00 am – 4:00 pm
Fri-Sun: Closed
Dental Implant Specialist In Hawaii
Welcome to Pacific Dental & Implant Solutions, where we are devoted to you, the patient!  It is our goal to ensure that you have a positive and friendly experience in our office. 
Our prosthodontist, Dr. Jmi Asam, has over 15 years of dental implant experience. Her expertise, and the use of the latest technology and equipment allow us provide our patients with the best possible care.
Devoted To You, The Patient
Dr. Asam recognizes that every patient is unique, with different goals and financial concerns. We will help you understand your particular dental condition and find a solution that best fits your needs. The staff at Pacific Dental & Implant Solutions look forward to spending time with each patient to ensure comfort and understanding with their dental treatment. 
We Specialize In The Following Services

Dental Implants
Replacing missing teeth with dental implants is a great way to improve your smile and oral health. Dental implants are permanently anchored into the jawbone and look and feel like natural teeth.

Tooth Restoration
Get your smile back in just one visit with our tooth restoration services! As a result, we can help restore your confidence in no time.

All On Four
Receive a complete smile transformation in as little as one day with our all on four dental implants. Our specialized doctor can perform the entire procedure, so you can have a new smile in just one visit.

Cosmetic Dentistry
Our cosmetic dentistry services will give you a beautiful, confident smile to last a lifetime. We use the latest techniques and technologies to provide you with the best possible results.

Dentures
We offer a wide range of dentures that are designed to fit your unique smile. Whether you're looking for full or partial dentures, we have a solution that's perfect for you.
The Best Dental Implants In Honolulu
Don't Just Take Our Word For It!
Read what our patients have to say.
Dental Implants Procedure
A dental implant is a titanium post surgically placed into the jawbone under the gums. Once in place, the dental implant fuses with the jawbone and provides a strong and sturdy foundation for a dental prosthetic, such as a dental crown, dental bridge, or denture. Dental implants are an excellent solution for patients who are missing one or more teeth. Not only do dental implants look and function just like natural teeth, but they also help to preserve the jawbone and prevent tooth shifting.
Cutting Edge Technology
Dr. Asam specializes in placing dental implants. Since the procedure is so delicate, it's crucial to work with an experienced and skilled dentist like Dr. Asam. She employs cutting-edge diagnostic technologies, such as digital X-rays and CT scans, to produce a surgical guide for implant placement before surgery begins.
In Office Treatment
Dr. Asam uses a unique technique to ensure that each dental implant post is precisely positioned and at a specific angle for maximum stability. She can do procedures in the office to place dental implants, offering patients a variety of benefits, including same-day dental implants for those who qualify.
For Your Comfort
During the surgical implant placement procedure, we also provide doctor-supervised sedation and general anesthesia. During your initial consultation, we can work together to determine which treatments and accommodations will best meet your needs, and make your treatment experience as comfortable as possible.
What are Dental Implants?
Dental implants are a tooth replacement option for those who have lost their teeth. They take the place of missing teeth and help you maintain your oral health. These dental prosthetics are made out of titanium and can be used to replace one or more teeth. Implants work by fusing with the jawbone so that they become stable without moving around as dentures would. It offers many benefits, such as being permanent, natural-looking, comfortable, and long-lasting, making it a great tooth replacement option!
How do implants work?
Dental implants typically have three parts: the post, the abutment, and the prosthetic crown. They can be used in single tooth replacements, multiple arch replacements or even to support a full denture. The implants are surgically placed into your jawbone or gums by a prosthodontist or dentist with general anesthesia in a procedure that takes about one and a half hours. The implant is then fixed to the area with a titanium screw.
Dental implants are one of the most effective and natural-looking ways to replace missing teeth. It replaces missing tooth roots with titanium posts that act as anchors for replacement crowns or other prosthetics.
Benefits of Dental Implants
Dental Implants give you back what we all want: your smile! Missing teeth due to injury or tooth loss is an unfortunate occurrence for many people every year. They allow us to replace missing teeth by providing support for artificial replacements so that they may look more natural like real ones did before being lost. They also help keep oral muscles and tissues intact since there's not as much pressure put on them when you bite down because the dental implants will hold up better than dentures would if they were just one piece of plastic.
Many people who have dental implants say it feels like their new tooth has always been there! The implant acts much like a real tooth root and it will feel like the tooth is your own. Dental implants can make you smile again!
Our Prosthodontist
Dr. Asam welcomes all dental patients, from simple to extremely complex. Her expertise and specialty training provide her with the knowledge she needs to make even the most complex of dental situations very enjoyable.   She also utilizes state-of-the-art equipment (such as the cone beam 3-D digital technology) and procedures to provide you with the best dental treatment.
We are here to inform you
Our dental implant specialist realizes that many people are missing teeth and may not understand their options for tooth replacement. She realizes that this process can be difficult, confusing, and expensive. We are privileged to help you through this process and offer a Free Consultation and Cone Beam 3D CT Scan (a $400 value Free).
Dr. Jmi Asam
Dental Implant Specialist
Free 3D CT Scan with a consultation ($400 value)
No one would consider getting a knee or hip replacement without an MRI or CT Scan. Similarly, Pacific Dental & Implant Solutions uses 3D digital CT Scanning technology to create a treatment plan for every Dental Implant case.
The 3D CT Scanning process allows Dr. Asam to better examine bone density and determine the correct treatment approach in each dental implant case. The CT Scan provides a detailed 3D image of the mouth and jaw that is much more detailed than traditional dental x-rays, providing much better information for a higher standard of care. The scanning process takes about 9 seconds and provides Dr. Asam three-dimensional and cross sectional views of existing teeth, bone, nerves, and tissue.
Advantages of 3D CT Images / Scanning:
Examine cross sections of a patient's bone structure to analyze the quality, volume, and density of the bone that will anchor the dental implant
Determine all possible treatment approaches and risk factors for each individual patient
Locate the precise placement and depth of implants
Determine the proper type and size of the implants
Locate and avoid sensitive areas such as nerves and sinuses
Lower levels of radiation compared to a medical CT Scan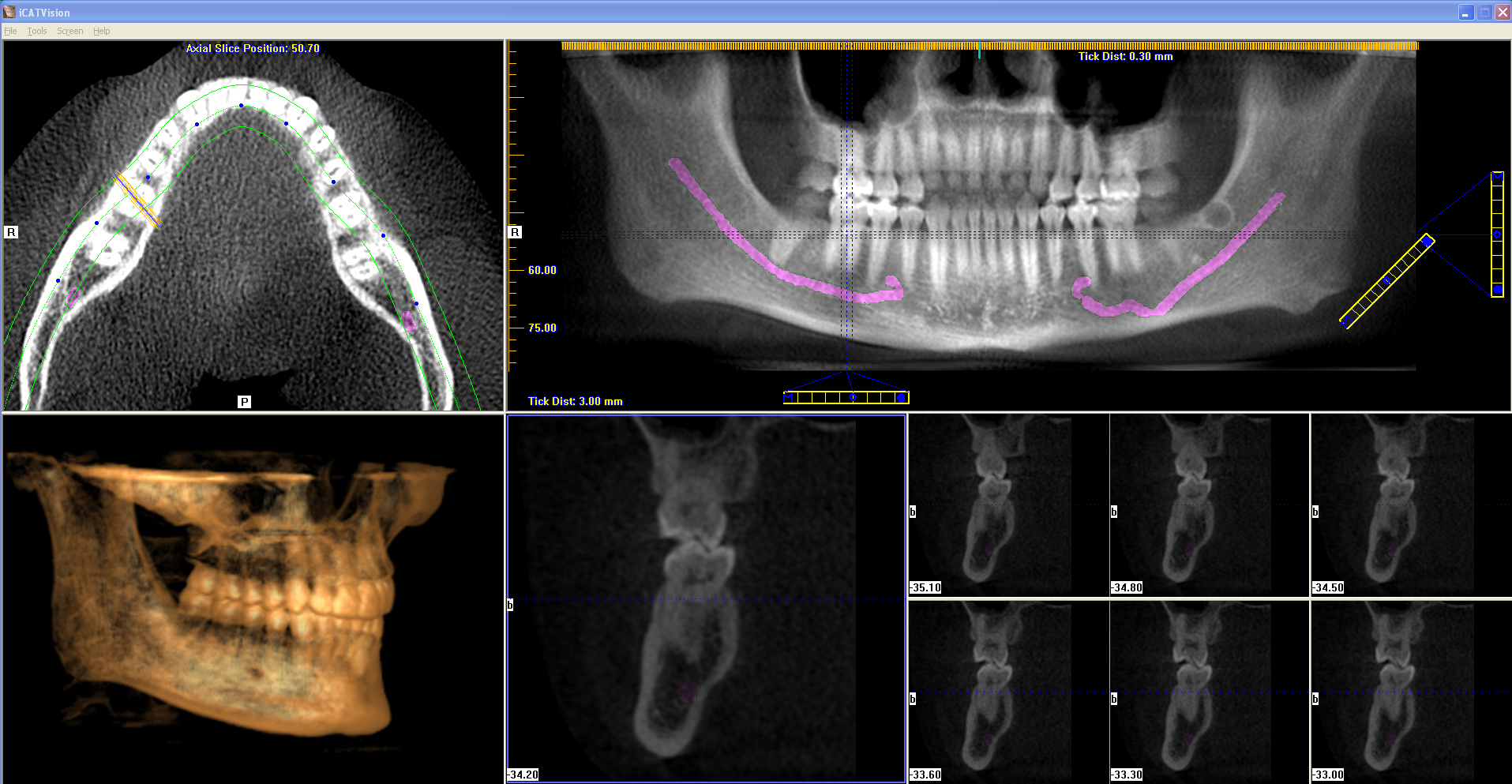 The Cost Of Dental Implants
Every individual is unique, so it is important to understand that the cost of dental implants in Hawaii can vary based on factors such as the complexity of the procedure and insurance coverage. For this reason, we offer a free consultation before you make any decision. We will provide you with information about all the available options and ensure that you get a good sense of what potential costs may be associated with your treatment plan. We will provide advice to help you make an informed decision that best suits your needs and individual circumstances.
Does Insurance cover Dental Implants?
The short answer is that it depends on the type of insurance policy you have and the specific circumstances surrounding the dental implant. Generally speaking, most standard health insurance plans do not cover dental implants. However, if your particular policy has a provision for specialized care, then it may be possible to get some or all of the costs associated with a dental implant covered by your insurance. When you come in for your complimentary consultation, we can provide more insight into what your insurance covers and review the total cost of dental implants with you.