Dentist in Honolulu – Restore Your Smile with Pacific Dental & Implant Solutions
Improve Your Quality Of Life With Dental Implants
Dental Implant Specialist
Office Hours
Mon-Thurs: 7:00 am – 4:00 pm
Fri-Sun: Closed
Dental Implant Specialist In Hawaii
Welcome to Pacific Dental & Implant Solutions, where we are devoted to you, the patient!  It is our goal to ensure that you have a positive and friendly experience in our office. 
Our prosthodontist, Dr. Jmi Asam, has over 15 years of dental implant experience. Her expertise, and the use of the latest technology and equipment allow us provide our patients with the best possible care.
Devoted To You, The Patient
Dr. Asam recognizes that every patient is unique, with different goals and financial concerns. We will help you understand your particular dental condition and find a solution that best fits your needs. The staff at Pacific Dental & Implant Solutions look forward to spending time with each patient to ensure comfort and understanding with their dental treatment. 
We Specialize In The Following Dental Services
Dental Implants
Replacing missing teeth with dental implants is a great way to improve your smile and oral health. Dental implants are permanently anchored into the jawbone and look and feel like natural teeth.
Tooth Restoration
Get your smile back in just one visit with our tooth restoration services! As a result, we can help restore your confidence in no time.
All On Four
Receive a complete smile transformation in as little as one day with our all on four dental implants. Our specialized doctor can perform the entire procedure, so you can have a new smile in just one visit.
Cosmetic Dentistry
Our cosmetic dentistry services in Honolulu will give you a beautiful, confident smile to last a lifetime. We use the latest techniques and technologies to provide you with the best possible results.
Dentures
We offer a wide range of dentures that are designed to fit your unique smile. Whether you're looking for full or partial dentures, we have a solution that's perfect for you.
The Best Dental Specialist In Honolulu
Don't Just Take Our Word For It!
Read what our patients have to say.
Cleaning And Prevention
Looking for a way to keep your teeth and gums healthy? We offer dental exams and periodontal disease prevention services to help you stay on top of your oral health. We have experienced dental hygienists who can help you maintain a beautiful smile.
Periodontal Disease Prevention
We are A Full Service Dentistry Practice
We are a full service dental practice that specializes in dental implants in Honolulu. Our dentist is a prosthodontist, which means they are specially trained in the restoration and replacement of teeth. We offer a wide range of services, from routine checkups to complex dental implant procedures. We are committed to providing our patients with the highest quality care possible.
Our Prosthodontist
Dr. Asam welcomes all dental patients, from simple to extremely complex. Her expertise and specialty training provide her with the knowledge she needs to make even the most complex of dental situations very enjoyable.   She also utilizes state-of-the-art equipment (such as the cone beam 3-D digital technology) and procedures to provide you with the best dental treatment.
We are here to inform you
Our dental implant specialist realizes that many people are missing teeth and may not understand their options for tooth replacement. She realizes that this process can be difficult, confusing, and expensive. We are privileged to help you through this process and offer a Free Consultation and Cone Beam 3D CT Scan (a $400 value Free).
Dr. Jmi Asam
Dental Implant Specialist
Free 3D CT Scan with a consultation ($400 value)
No one would consider getting a knee or hip replacement without an MRI or CT Scan. Similarly, Pacific Dental & Implant Solutions uses 3D digital CT Scanning technology to create a treatment plan for every Dental Implant case.
The 3D CT Scanning process allows Dr. Asam to better examine bone density and determine the correct treatment approach in each dental implant case. The CT Scan provides a detailed 3D image of the mouth and jaw that is much more detailed than traditional dental x-rays, providing much better information for a higher standard of care. The scanning process takes about 9 seconds and provides Dr. Asam three-dimensional and cross sectional views of existing teeth, bone, nerves, and tissue.
Advantages of 3D CT Images / Scanning:
Examine cross sections of a patient's bone structure to analyze the quality, volume, and density of the bone that will anchor the dental implant
Determine all possible treatment approaches and risk factors for each individual patient
Locate the precise placement and depth of implants
Determine the proper type and size of the implants
Locate and avoid sensitive areas such as nerves and sinuses
Lower levels of radiation compared to a medical CT Scan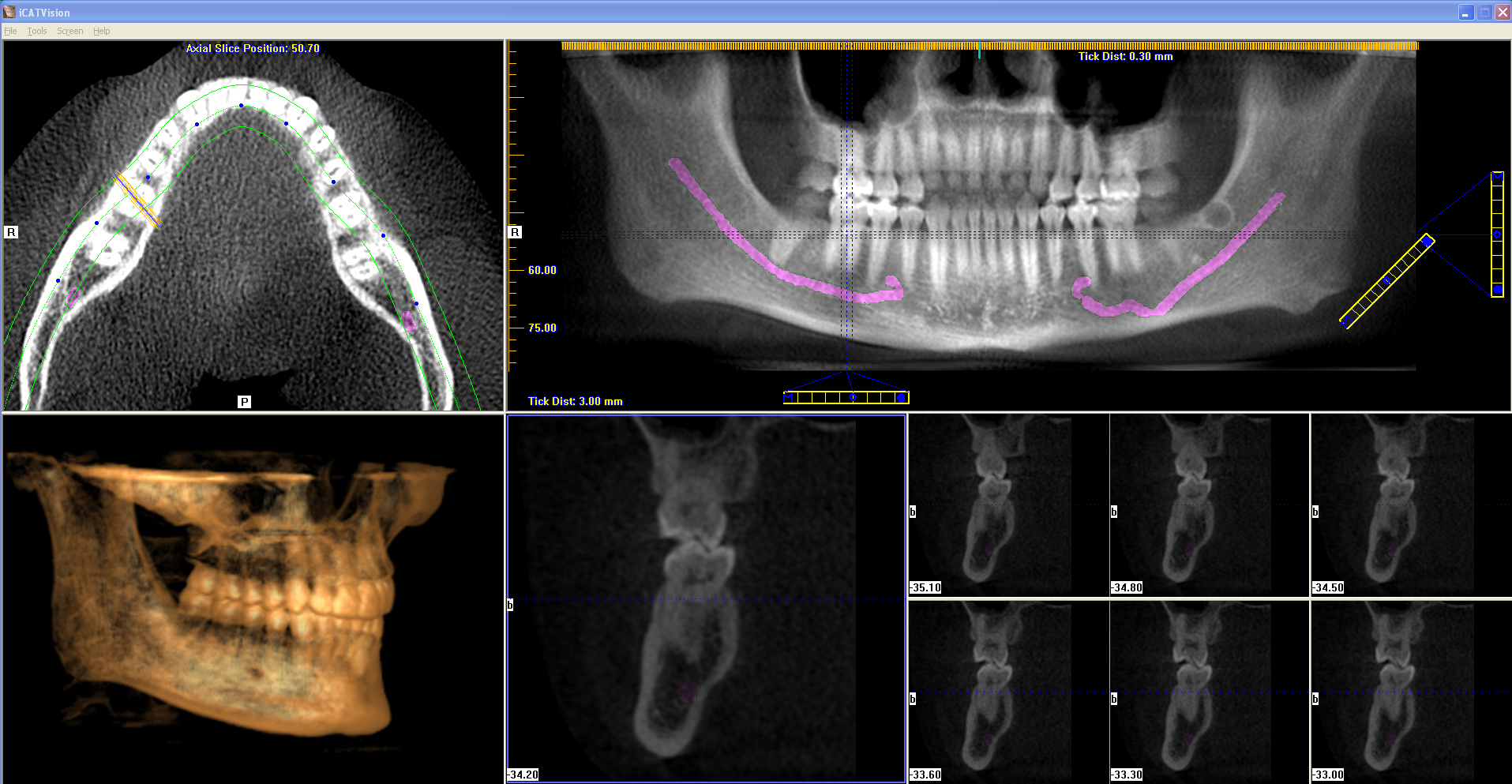 Top Quality Modern Dental Implants Solutions in Honolulu, Hawaii
Pacific Dental & Implant Solutions is located at 4211 Waialae Ave #102, Honolulu, HI 96816. From Daniel K. Inouye International Airport get on I-H-1 E from Aolele St. Head southeast and keep left at the fork and merge onto Aolele St. Turn left onto Lagoon Dr then turn right toward HI-92 E. Slight right onto HI-92 E and use the left 2 lanes to take the ramp onto I-H-1 E. Follow I-H-1 E to Waialae Ave. Take exit 26 B from I-H-1 E then merge onto I-H-1 E. Take exit 26 B to merge onto Waialae Ave and continue on Waialae Ave to your destination. Merge onto Waialae Ave then turn right onto Kilauea Ave. Turn right at Makaiwa St next slight right. Turn left and Pacific Dental & Implant Solutions will be on the right.
We are open every day from 08:00 to 20:00.
For additional questions, you can call us at (587) 741-2364 or contact us on Yelp.